Shaykh Osman Nuri Topbas Naqshbandi Mujaddidi Khalidi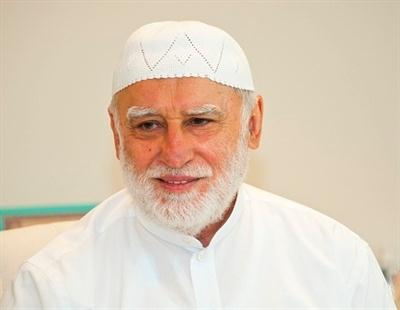 Who is Osman Nuri Topbas?
Osman Nuri Topbas was born in 1942 in Erenkoy, Istanbul, Turkey to Musa Topbas and Fatma Feride Hanim, H. Fahri Kigılı's daughter.
He went to Erenkoy Zihni Pasha Primary School and, in 1953, Istanbul Imam Hatip High School, one of the leading secondary educational institutions with highly respected teachers such as M. Celaleddin Okten, Mahir İz, and Nureddin Topchu. During his years of primary schooling, he also received special instruction in the Qur'an.
At Istanbul Iman Hatip, he studied under the supervision of M.Zekai Konrapa, Yaman Dede (Abdulkadir Ketsheoglu), Ahmet Davutoglu, Mahmud Bayram, and Ali Rıza Sagman. Both Osman and his uncle Abidin Topbash graduated from this educational institution in 1960.
He also became acquainted with famous poet and thinker Necip Fazıl. He joined the latter's circle of friends, attended his speeches, followed his magazine Büyük Doğu, and became an ardent supporter of his ideas, both materially and spiritually.
After graduation, Topbas engaged in trade and industry but he never severed himself from learning and philanthropy. He was an active member of İlim Yayma Cemiyeti (Society for the Promulgation of Knowledge). His business site operated like a charitable organization and foundation; it was a center for giving scholarships to students and assistance to the poor. He was also in charge of his family's philanthropic services. He continued his charitable activities under the auspices of the Aziz Mahmud Hudayi Foundation, following its establishment. He was pioneer not only in its founding but also in spreading its services to students from neighboring countries.
Topbas began to write in the early 1990s as a result of his interest in history, literature, the religious sciences and in poetry. Among his Works translated to English:
Among his Works translated to English:
1. Tears of the Heart
2. Islam Spirit and Form
3. The Exemplar Beyond Compare: Muhammad Mustafa (sav)
4. The Secret in the Love for God
5. From the Garden of Mathnawi: The Story of the Reed
6. Ikhlas and Taqwa: Sincerity and Piety
7. The Last Breath
8. Endowment, Charity, and Service in Islam
9. Civilisation of Virtues 1
10. Civilisation of Virtues 2
11. The Prophet of Mercy Muhammad: Scenes From His Life
12. Such a Mercy He Was: Moral Legacy of Prophet Muhammad
13. The Prophet Muhammad Mustafa the Elect 1
14. The Prophet Muhammad Mustafa the Elect 2
15. Principles from the Lives of the Four Rightly-Guided Caliphs
16. From the Garden of the Heart: From the Exemplary Manners of the Friends of Allah
17. A Peaceful Home: Paradise on Earth
18. The Society of the Age of Bliss
20. Hajj Mabrur and Umrah: The Accepted Pilgrimage Performed in a Spiritual Climate
21. Sufism: A Path Towards the Internalization of Faith
22. 101 Steps In Education
23. The Chain Of Prophets – 1 (Student's Book)
24. The Chain Of Prophets – 2 (Student's Book)
25. 101 Essentials Of Service
26. Islam The Religion Of Truth
27. Prophet Muhammad Mustafa – 1 (Textbooks)
28. Prophet Muhammad Mustafa – 2 (Textbooks)
29. The Islamic Approach to Reason and Philosophy
30. The Role Of Tasawwuf In The Muslim's Test With His Own Self
31. Prophet Muhammad: Mercy to the Worlds The Qur'an: The Eternal Miracle
32. Masters of the Naqshibandi way
33. The Muslim's Trial with Money
34. The Journey Of Seeking The Truth
Topbas's books have been translated into many languages. He has shared his vision also through educational seminars, speaking at conferences and chairing panels in many different countries, all of which he continues within his understanding of service to humanity.
He is married and he is the father of four children.